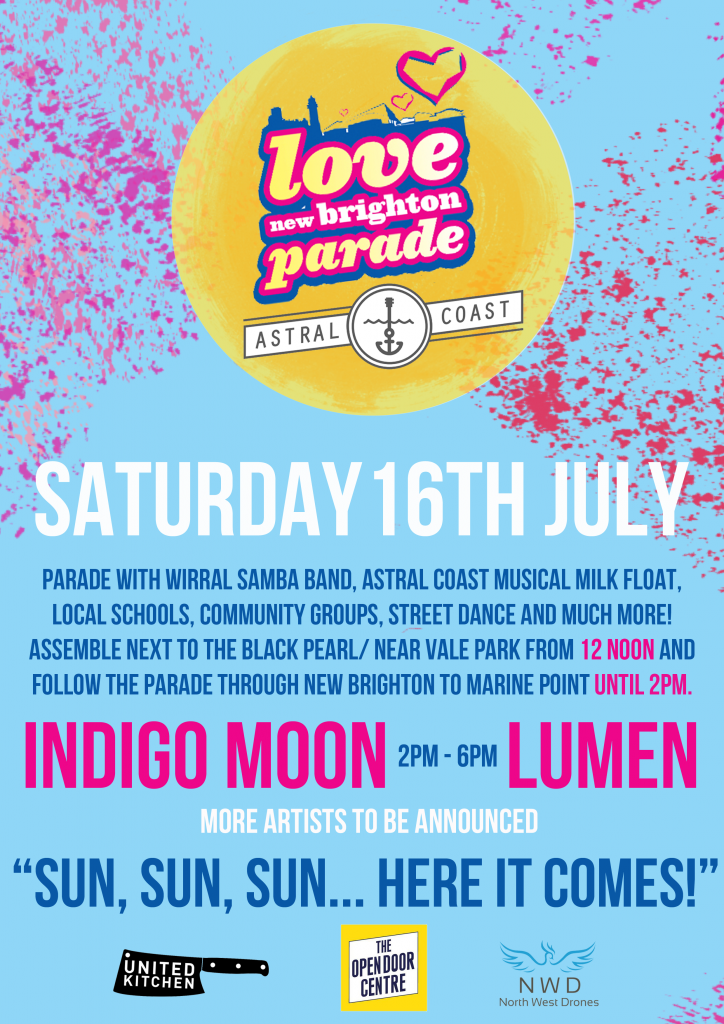 Love New Brighton Parade and Astral Coast Festival
Saturday July 16th 2016
Join the parade at the Black Pearl pirate ship on Saturday 16th of July at 12 noon, where we will be celebrating the streets of New Brighton as we head off on our quest through New Brighton to the Astral Coast stage at Marine Point, where there will be live music all afternoon.
Event Schedule:
The parade will be commencing on the promenade next to the entrance to Vale Park at 12 noon on the 16th of July continuing through New Brighton, past Marine Point to the green area just past Morrison's.
There will be Tae Kwan Do and Street Dancing demonstrations at the green area after the parade has ended, as well as a display of various classic cars. The Astral Coast stage will also be hosting live music by Indigo Moon, L U M E N and Red Rum Club from 2:15pm outside the Light Cinema in Marine Point.
Love New Brighton start: 12-noon at The Black Pearl ship.
LNB finish: 2pm at The Dips
Groups in the parade: Black Pearl Pirates, Charlotte's Brightside, Mount Primary School, St Peter and St Pauls Primary School, Wirral Samba, Wirral Radio, Wirral UKTA Tae-Kwondo School, Wallassey Youth Hub, Wallassey Sea Cadets, and more.
Demonstrations at the end of the parade at the Dips: Wirral UKTA Tae-Kwondo School, and Merseyside Dance Initiative.
Astral Coast start: 2:15pm at Marine Point
Astral Coast bands: Indigo Moon, Red Rum Club, L U M E N.
Don't forget to follow us on Facebook and Twitter
We are welcoming any local groups, to register, to take part in the parade. If you would like to be part of the parade, drop an email over to lovenewbrightonparade@gmail.com