News
Published on May 19 2015 by Marine Point
The Prom apartments on New Brighton's waterfront are set to unveil the new show homes on Friday 22 May.
The stunning new development, which consists of 24 bespoke, purpose built apartments, is holding a range of open weekends across May and June for prospective buyers to visit the show homes.
The open weekends will take place over four weekends, on each Friday and Saturday from Friday 22 May until Saturday 13 June. Visits will be available by appointment.
The apartments range from one bedroom, up to four bedrooms, with each home benefitting from fully glazed 'winter' balconies, allowing owners to enjoy the sea-views across Liverpool Bay all year round.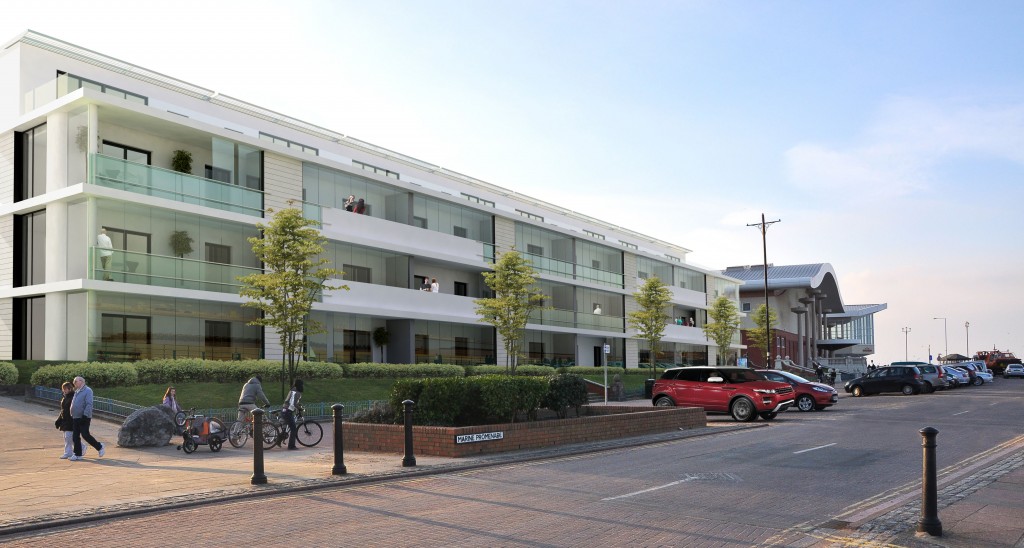 In addition, the homes offer buyers master bedrooms with en-suite bathrooms and private parking with constant CCTV coverage. Eight of the apartments will be duplex, and will have their own rooftop terrace, alongside large living spaces.
Homeowners at The Prom will have the magnificent Floral Pavilion Theatre and Marine Point on their doorstep, with great restaurants, bars and a cinema. New Brighton train station is only a 10 minute walk away too, which has good links to both Liverpool and Chester, making the apartments attractive for those who work in the cities.
Over half of The Prom homes have been sold already with the first owners set to move in soon.
Sue Taylor, agent for Almond Properties which is marketing The Prom @ New Brighton, says: "This is a unique opportunity to buy a stunning waterfront property, unlike any other in New Brighton or the Wirral, and we've already had a great response from buyers.
"If anyone is interested in purchasing one of the few remaining properties, we urge them to book an appointment, come and visit the show homes and see for themselves the gorgeous new homes at New Brighton, as they will not be around for long."
The Prom properties are also available under the Government's Help to Buy scheme which offers buyers the chance to buy a brand new property with a small deposit.
Daniel Hynd, project manager at Neptune Investments, says: "The Prom Apartments are the final instalment in the regeneration of New Brighton by Neptune Investments. The area has been transformed into a top leisure destination in the Wirral, and the addition of the brand new homes just shows what a great place New Brighton is to live and visit."
For more information and to book an appointment for a visit, please call 0151 702 0147 or visit the website www.thepromnewbrighton.co.uk
Published on May 15 2015 by Marine Point
To celebrate Cunard's 175th birthday and the Three Queens visit, Marine Point unveils its plans to welcome the ships and visitors to New Brighton.
From flag festivals, to themed ice cream, and swing choirs performing throughout the weekend, Marine Point is the place to be on the Wirral to see the once in a lifetime event.
Daniel Hynd, from Neptune Investments, owners of Marine Point, says: "The Three Queens is going to be an amazing event and New Brighton is the place to see the spectacle on the Wirral. The businesses and community groups of Marine Point are going to put on some fantastic events in honour of the Cunard Queens over the bank holiday weekend. 
"There is a real buzz about Marine Point as the businesses get ready to welcome visitors to view the Queens and I think it's going to be extraordinary. Marine Point is perfectly located to get a great view of the three cruise ships arriving and beginning their journey up the River. The restaurants are ready to cater for visitors throughout the day and will provide a perfect place to dine as the Queens depart in the evening."
First up, community arts project MAP, based at Marine Point, has teamed up with local community groups and businesses to create a flag festival along the New Brighton promenade that will extend all the way to Seacombe. MAP is also asking the public to join in with the festival by decorating their homes and businesses along the seafront with flags to welcome the ships.
MAP's community gallery at Marine Point will be dressed up for the occasion too, as the three ships will adorn the front of the gallery, alongside Mount Primary School's art exhibition which is currently being show.
In addition, the team behind MAP are organising a town crier competition on Saturday 23 May. The competition will take place at the Marine Point amphitheatre and begin at 10.30am. MAP are inviting everyone and anyone to have a go at ringing the bell and declaring the news of the day to the residents and visitors of New Brighton.
Carl Leckey, co-director of MAP says: "There has never been a town crier at New Brighton before and it's something I've wanted to do for a while. I think it will be a great historical asset for the town and will really add to the area."
Also taking place on the Saturday, Vox at the Light, a local choir that rehearse at the Light Cinema, will be giving an exclusive performance of their fabulous swing vocal harmony choir, alongside the choir leaders who will be performing as The Night and days, a four piece vocal harmony group specialising in swing and jazz songs.
Tracey Carmen, head of Vox says: "The Swing choir at the Light Cinema has been going for just over a year now and we always have so much fun performing. I can't wait for the Three Queens weekend and to add a musical element to all the action."
For those looking for royal sustenance over the weekend, head to Caffe Cream. Marine Point's resident ice cream and coffee shop has created a special Union Jack themed ice cream in honour of the Queen Elizabeth, Queen Mary 2 and Queen Victoria Cunard ships. The 'Three Creams' ice cream will be a combination of three of the café's most popular ice creams, Strawberry, Vanilla and Bubblegum.
Justin Dooley, co-founder of Caffe Cream says "It's an honour to welcome the Three Queens to New Brighton. It will be a once in a lifetime experience and Caffe Cream is lucky to have the best viewpoint to watch their arrival."
"We welcome visitors to come along and have some award winning ice cream in celebration of an award winning fleet."
As the Queen Mary 2 is set to arrive at Liverpool Pier at 9am on Sunday 24 May, the Marino Lounge are opening early on the Sunday at 7am, to welcome visitors wanting to try their delicious breakfast menu and see the first Queen sail past. It's an excuse to order the Eggy bread and bacon stack, drizzled with sweet golden syrup.
In addition, La Tasca will be serving up a Spanish fiesta for the event. The restaurant will be offering diners the chance to see a Paella cooked live; holding a BBQ on the outside terrace, and allowing children to eat free on the Sunday. Bueno!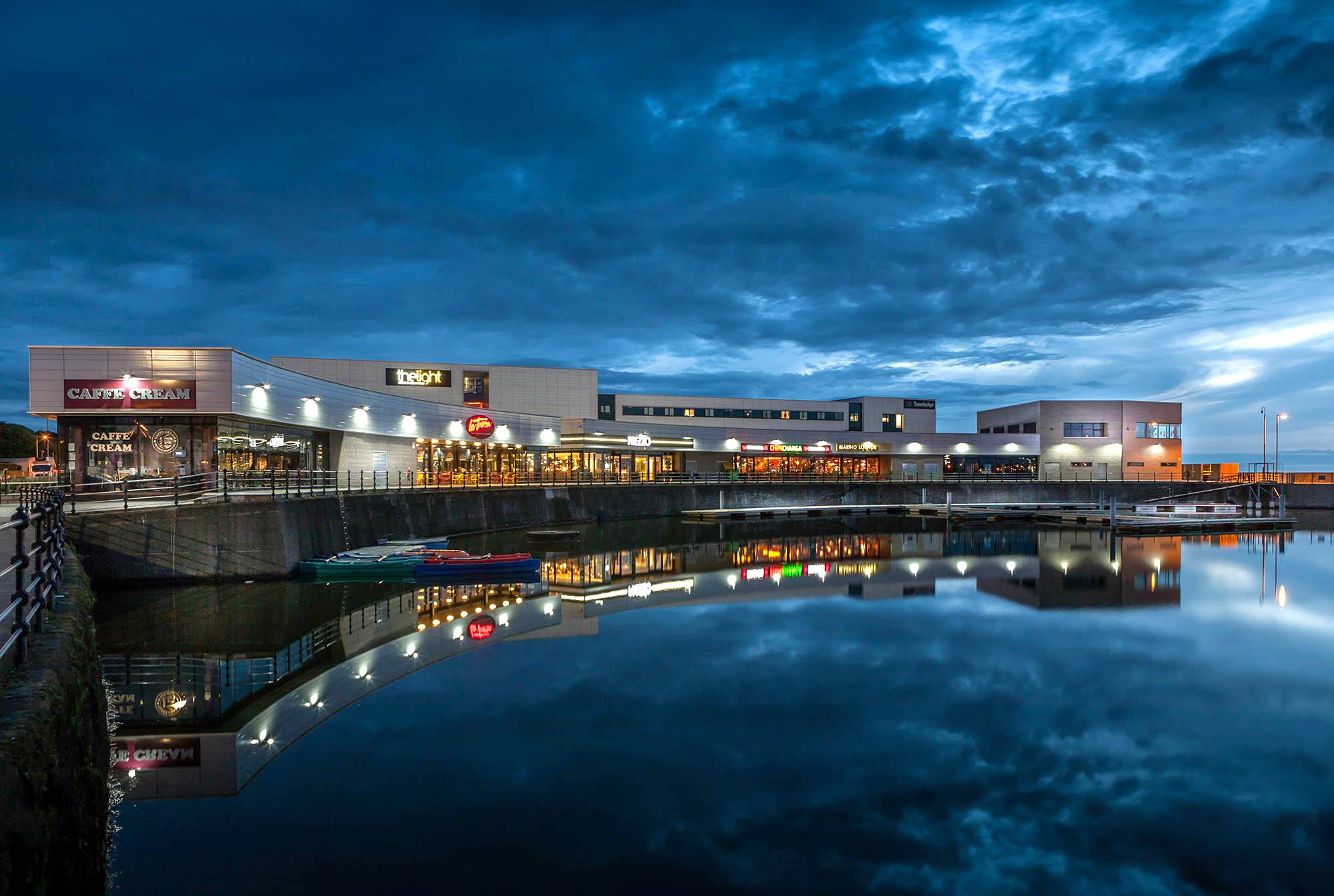 The Light Cinema will be welcoming visitors with refreshments and food over the weekend, alongside hosting a balloon modeller to make balloon animals for children. The cinema will also be screening a film about the other Queen, 'A Royal Night Out', which follows the story of Princess Elizabeth and Princess Margaret celebrating VE day in 1945 incognito on the streets of London.
Marine Point is a mere five minute walk from New Brighton train station, making it easy access to catch the best view of the Three Queens. With a giant screen set up at Fort Perch to watch all the action, and all these great events taking place, Marine Point is definitely worth a visit this May Bank Holiday weekend. There will be Free Park & Ride on the Dips at New Brighton and Free shuttle bus service.
For more information about special travel arrangements for the events, please visit www.visitwirral.com/three-queens
Published on May 12 2015 by Marine Point
Bubbles' World of Play, home to one of the largest and most innovative children's indoor play frames in the UK, has launched a new charity campaign to help put defibrillators in local schools.
The New Brighton-based indoor play centre has chosen to help fund defibrillators in local schools in part due to the astonishing statistics that 12-16 young people die every week in the UK from sudden cardiac arrest, a figure that can be reduced if schools have defibrillators and staff trained to use them.
Bubbles' World of Play will raise money in order to provide local schools with the necessary medical equipment and staff with the CPR training needed in the event of a student suffering from sudden cardiac arrest.
Based in New Brighton, Wirral, the indoor entertainment centre has been involved with many different charity campaigns in the two years it has been open. At Christmas, the centre launched a campaign that saw it donate presents to the local children's hospitals and hospices; money to Walking with Giants, a charity that supports children with primordial dwarfism; and donate food to local food banks through their Kind Elves charitable campaign.
Speaking to the general manager of Bubbles', Peter Collard, he says: "At Bubbles', we've always been involved with charity fundraising and it is something we're especially proud of. When you're involved with the community as we are and are made aware of situations and conditions that affect children every day, it's hard not to want to get involved.
"We decided to raise money to buy defibrillators for schools, as we recognise how important defibrillators can be for a cardiac arrest. If schools had defibrillators and trained staff, it means that if a pupil suffered from cardiac arrest in the classroom, the staff will have the equipment and know how to use it, in order to increase the child's chance of survival.
"At Bubbles', we have our own defibrillator which was purchased prior to opening and the staff are trained on how to use it."
The children's entertainment centre will have charity buckets on site where visitors can donate their spare change and there are plans to throw some fundraising events too, though Peter won't reveal what the team are planning just yet.
"Visitors to Bubbles' have always been very generous in popping their spare change in the charity buckets we've had for the various charities we support in the past, so we know that having buckets for the Defibrillator campaign is the way to go. The staff are working on some great fundraising plans too, but I don't want to spoil them by announcing them too early!
"Bubbles' World of Play wants to do everything it can to make sure more pupils can be saved from sudden cardiac arrest."
If you want to donate to Bubbles' World of Play defibrillators campaign, you can donate at the play centre in New Brighton. For more information on sudden cardiac arrest and how defibrillators in schools can help, visit handonheart.org.