News
Published on Mar 19 2015 by Marine Point
Posted on www.liverpoolecho.co.uk/whats-on/family-kids-news/bubbles-world-play-celebrate-second-8875712
New Brighton indoor play centre get ready to welcome their 500,000th visitor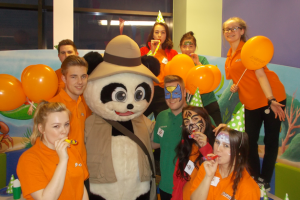 Bubbles' World of Play are inviting parents and their kids to celebrate their second birthday tomorrow.
Staff at the £2.5 million indoor play centre in New Brighton, home to the largest and most innovative indoor play frames in the UK, are also getting ready to welcome their 500,000th visitor.
To celebrate their second birthday they are giving away an array of prizes including a birthday party for 12 children, meal deal vouchers, family admission vouchers plus food and drink prizes. There will also be a competition to win a birthday party on Bubbles' World of Play's Facebook page.
Peter Collard, general manager of Bubbles' World of Play said: "I can't believe we are so close to welcoming its 500,000th guest already, it doesn't seem that long since we started out.
"In the two years the centre has been open we have created many magical and memorable moments, but the best is always when we get told by parents that their children took their first steps at Bubbles."
12 most popular indoor soft play centres for kids in Merseyside
Since Bubbles' World of Play opened its doors in 2013 to children aged up to 11 and has gone from strength to strength. It has been awarded 5 star food hygiene awards year after year, and has been shortlisted as Attraction of the Year at the Visit Wirral Tourism Awards 2015.
Peter added: "We welcome guests from all over the UK and the world, including families that have visited us from New York and Croatia. I'm so proud of all the staff at Bubbles for all the hard work they put in to make it a great place to visit."
The fun starts tomorrow, Friday, March 20 from 9.30am.
Calendar

March 2015
M
T
W
T
F
S
S
1
2
3
4
5
6
7
8
9
10
11
12
13
14
15
16
17
18
19
20
21
22
23
24
25
26
27
28
29
30
31