News
Published on Mar 28 2014 by Marine Point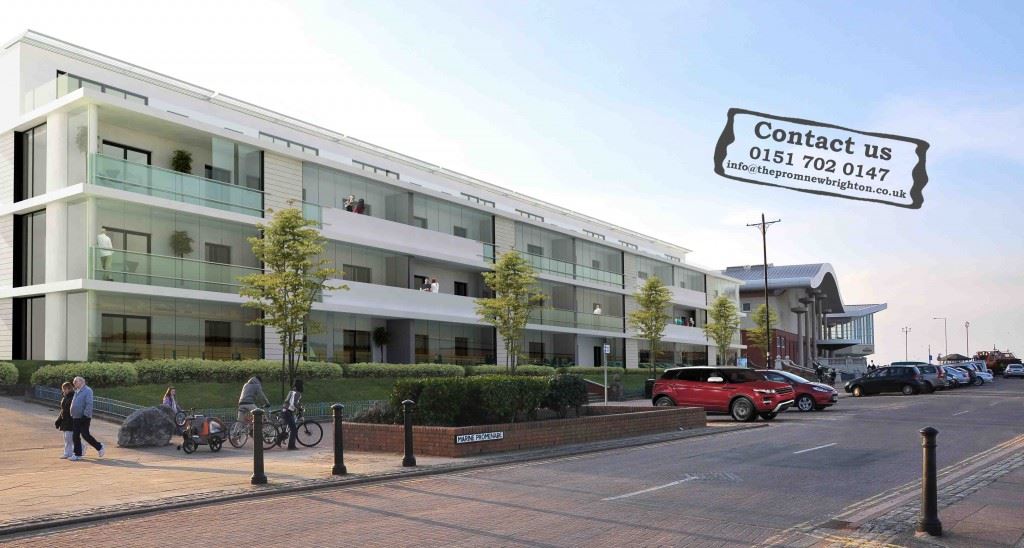 Work is starting on the final piece of the massive redevelopment of New Brighton.
Developers Neptune say the construction contract with Merseyside contractor WH Snow will see the £6m apartment scheme start this week.
It is the final element of the plans, which have seen the Floral Pavilion Theatre revamped and the creation of Marine Point, and Neptune says the total investment in New Brighton following on from the submission of their master plan will be about £80m.
Local councillor and Wirral council cabinet member for economy, Pat Hackett, said it was "great news" and added: "This is the final phase of the Neptune scheme which we fought so long and hard to bring here.
"The development has made such a difference in the short time since Marine Point opened, and its success has helped bring other investment to New Brighton, and I'm sure there will be more to come."
The council also plans to open up part of Victoria Parade where it connects with the promenade to ease traffic during busier times, with work to start later this year.
Daniel Hynd, of Neptune, said: "We are delighted to be starting on the final phase of the master plan for New Brighton.
"It's good to be building on the feel-good factor that exists in New Brighton, and we hope this will continue the momentum and ensure there is even more investment into the area.
"The new proposals are very much designed for the owner occupier, with fully glazed sea facing balconies, generous apartment sizes and secure parking."
The scheme includes 24 apartments, ranging from one and two bedrooms on the ground and first floors as well as three- and four-bedroom duplex penthouses.
Neptune say potential purchasers use the  Government's Help To Buy Scheme which allows purchasers to acquire the apartments with just a 5% deposit.
Sue Taylor, of Almond Property, who will be negotiating the sales for Neptune, said: "This luxurious development is something that discerning buyers have been awaiting for many years."
The work is expected to take around 11 months to complete.
For more info, please:
Visit  www.thepromnewbrighton.co.uk
Email us: info@thepromnewbrighton.co.uk
Call us: 0151 702 0147
Published on Mar 26 2014 by Marine Point
Pizza Express Celebrates Grand Opening in New Brighton
30 new jobs as new restaurant team prepares to stretch, toss and serve
4,000 pizzas in its first month
Pizza lovers in New Brighton are in for a treat as PizzaExpress opens on 3 April. The new restaurant, which can seat 140, means jobs for 30 new team members including nine pizzaiolas and 15 waiters and waitresses.  An estimated 1,760 kilos of dough will be used in the first month as the team prepares to serve up 4,000 pizzas and 2,300 portions of PizzaExpress' iconic Dough Balls.
Each PizzaExpress restaurant is individually designed – often using well known places, people or historical events from the area as the basis. PizzaExpress New Brighton draws upon the rich nautical history of the area, reflecting the beautiful seaside surroundings perfectly.
Nikki Bartley, manager of PizzaExpress New Brighton, said, "We will have a beautiful new restaurant and can't wait to show it off to our customers. We have a friendly and enthusiastic team who are looking forward to welcoming everyone over a delicious pizza. Our new restaurant will be a great spot for everything from a casual lunch or dinner to a special celebration – we're delighted to be bringing PizzaExpress to New Brighton."
To celebrate the arrival of Spring, PizzaExpress is launching a new menu on 1 April, which boasts classic Italian style and fashionable flavours, perfect for the new season, as well as a wider range of its low-calorie Leggera dishes which call contain fewer than 500 calories. There are 10 new dishes including four new gluten-free options and a cheese-free pizza that is suitable for vegans.
Parents can now book a Kids' Pizza Making Party.  Children from the age of four to 11 will be transformed into mini-pizzaiolas, getting to stretch and toss their own pizza base, before topping it with their favourite ingredients.  Once they've enjoyed their culinary creations, they will be entertained with games, Like Pin the Moustache on the Pizzaiolo, by their personal party host.
To celebrate the grand opening in New Brighton, try Pizza Express menu with 25% off. All you need to do is print the voucher off and bring it in to the restaurant.Feel free to send on to friends and family as well. The more the merrier!